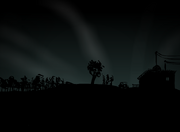 The Airfield is an location of Covert Front 3 near Zurich. It is close to Manfred his headquarters.
The airfield seems to be owned by Manfred Nikolai, as he has several planes there.
After escaping from the prison, agent
Kara
stole one of Manfred's planes to fly to
Lisbon
to search
Von Toten
. The airplane is an
AGO C II
.