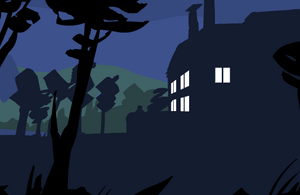 The
Karl von Toten's house
is the main location for
Covert Front Episode 1
.
Before 1903, presumably even before 1868[1] the house was built. In some point von Toten resided to this house or got it as a in-heritage.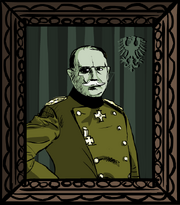 In July of 1903 Professor Karl Von Toten returned to his house from the conference that attempted creating never-before-seen war technology. They had been successful in creation of new weapons, but were unable to stabilize them. Now von Toten had requested to research the matter and work on his own micro-scale model.
It was also during this time, that von Toten first noticed that there was something wrong with Manfred Nikolai.
In October of the same year, von Toten had reached a breakthrough. He sent a sample of his work to Kaisar's Chemistry Institute to be analyzed. In November he got his anwser, it was Helium. It was stable, which is not possible in the Covert Front universe.
Through all this time Karl von Toten was being watched by an unknown organization.
In 3rd of August 1904 a large bag was carried out of the mansion by two soldiers. What or who this was remains to be seen. This probably has links to Von Toten his disapearance,
In 4th August of 1904, von Toten traveled out of his house, to the capital and Manfred seems to also have left. This is lucky for Kara who entered the house and searched it for evidence. However, it was also Kara's mission to find him. Kara was seen by the organization, and was caught on tape. The organization did nothing to stop her, however. Kara left the house and ventured to the underground sewers.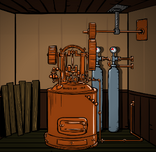 The water of the house is warmed with a boiler, made in 1868. The boiler is used to heat the water for the bathroom and apply energy
for the experiments that von Toten cunducted.
The boiler is marked with Baxter's pat. 1868. In our world this would refer to the US patent number 84,605, which is an adjustable s-wrench.[2]
References
Edit
↑

The boiler in the house is dated then, however, it is possible that the boiler was changed in some point.