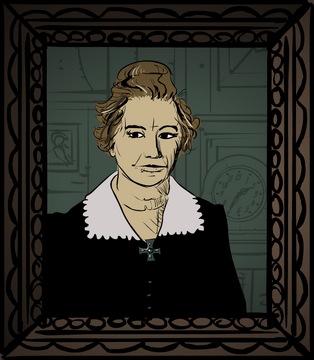 Katia von Bonen is a Covert Front Series character. She is a Karl von Toten's friend. We can read a note about her in Covert Front Episode 2: Station on the Horizon.
Biography
Edit
Katia lives in Zigfridstrasse 27, Zurich.
In 1904, Karl von Toten sent her a letter, explaining his success. It is unknown if the letter was ever recieved by her.
It is very likely she is Von Toten his wife. This was never confirmed. There is a painting in Karl von Toten his house of an elderly woman. It also is not confirmed that this is Katia or his wife or both.
Ad blocker interference detected!
Wikia is a free-to-use site that makes money from advertising. We have a modified experience for viewers using ad blockers

Wikia is not accessible if you've made further modifications. Remove the custom ad blocker rule(s) and the page will load as expected.