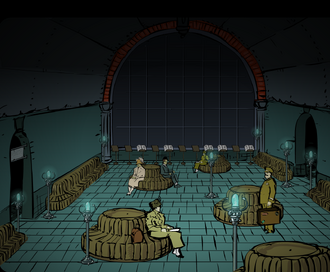 The Railway Station German: Zürich Hauptbahnhof is the principal place in the first part of Covert Front Episode 3: Night in Zürich.
Kara got a note after finishing Princess of Burgundy telling her to travel to Zurich back in the outro of Covert Front 2. Kara took the train propably from Munich and got to the railway station at nightfall. When she got of her train, she took a newspaper from her Zurich contact, which contained 50 Franks and a document. After buying a ticket from the ticket booth, she got to the lounge and took her new data from the locker 102: a few photos and
a few notes and camera. She was going to use the door, but realized she was being followed, so she escaped from the bathroom window, and headed to Hotel Altstadt via the bathroom using a swiss army knife bought from the souvenir shop.
The railway station has three platforms.[1] You can wait for the train in the lounge, but if you wish to do so you must first buy a ticket from the ticket booth.
The work times of the workers allow a coffee break[2], apparently in their own quarters,[3] not in the café found in the station.
The café offers coffee or tea nad apparently some alchohol drinks as well. The café also houses the bathroom of the station.
There are safes in a separate section of the lounge, where you can store your possessions while drinking coffee for example. There are 108 safes altogether. Each safe is protected with a four-digit code, that only contains one number once. The safe number 32 is mislabeled as 2.
Zurich-Munich 11F
Zurich-Vienna 23F
Zurich-Cracov 27F
Swiss Army Knife 5F
Postcard from Zurich 1F
Timetable
Edit
Bartender
Souvenir seller
Ticket seller
Lounge guard
Two staff members of unknown function.
References
Edit
↑

The timetable in the station.

↑

There was a note left on the souvernir booth that read 'coffee break'.

↑

The saleswoman didn't appear in the café
Ad blocker interference detected!
Wikia is a free-to-use site that makes money from advertising. We have a modified experience for viewers using ad blockers

Wikia is not accessible if you've made further modifications. Remove the custom ad blocker rule(s) and the page will load as expected.