There is an ongoing war in Europe during the
Covert Front Series
.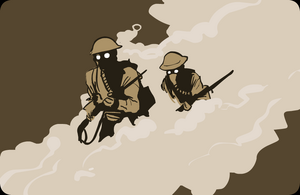 Development
Edit
Beginning of the war - 1901
Edit
The war begun in 1901. The seeds of war were laid when the French Prime Minister was assasinated. It seems that the French accused the Germans for this and mobilized their troops.
Understandably Germany disaproved of this and sent an ultimatum. The ultimatum went unaccepted.
Then France declared war, and for some reason Poland as well. We asume that war was declared in Germany and Great Britain as well.
Gas, tanks and airplanes were used in the war.
People of Science, missing- 1903
Edit
In July of 1903 a science conference named Knowledge for Victory was held in Berlin. Scientist of all percievable field attended to it from physics to linguistics. However, 96 attendants disappeared after the conference during their trip home.
It seems that Germany used the knowledge of these scientists to create new more powerful weapons. One scientist in particular, Professor Karl Von Toten is known to have made great progress with technology, that could create weapons and even more from nothing with the sheer power of imagination.
New weapons - 1904
Edit
Germany deployed these weapons to their western front to aid their battle against France.
The Intelligence Agency General Headquarters took measures to find the scientist but has so far been unsuccesful.
Ad blocker interference detected!
Wikia is a free-to-use site that makes money from advertising. We have a modified experience for viewers using ad blockers

Wikia is not accessible if you've made further modifications. Remove the custom ad blocker rule(s) and the page will load as expected.